Some families' testimonials about their puppies.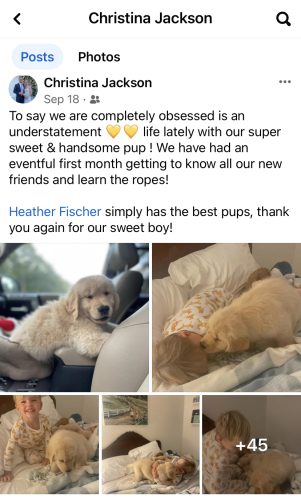 I just wanted to share an adorable picture of Olive and one of her best friends Mookie our cat while I was just working in my home office.  She is the best puppy ever we adore her. We have started puppy classes and she's bored out of her mind haha because she already knows so many tricks she is so smart and loving! She's doing well with basic commands and loves all of the other puppies in class. She's obsessed with our 4-year-old Leo which he loves because our 3-year-old lab mix is definitely my older son Owen's shadow. Hope your crew is doing well! Thank you again for such an amazing addition to our family.
Lab mix is in love and even Mookie the cat has been happy about the new puppy sister. She slept pretty well in her crate last night and has zero accidents in the house! She will whine by the back door every time she has to go potty. Thank you for giving her such a great head start. She's smart, adorable, and so gentle. We are so grateful you chose us for one of your puppies.
Take care
Amanda Blumenthal
-Thank you so much again for everything. You've been such a wonderful breeder and I'm truly so happy I found you.
Milo did amazing on the flight and slept almost the entire way (I've attached a photo in his carrier, he was smiling as he slept! He was so cute). He is the sweetest puppy and I love him so much, I couldn't ask for a more perfect puppy. You truly did such an outstanding job on raising these puppies
Lyndsey Steele
Also, since we're completely obsessed with her and how well you set her up for life from day one I was wondering if you wouldn't mind me sharing your info on a reputable breeder page I'm on in my area. I know quite a few people in the group and I wanted to share my success story of finding the perfect puppy after 2 years but didn't want you to get bombarded with people if you weren't interested in that.
Amanda
Just wanted to say happy birthday to your sweet boy and Olive's brother. I can't believe they're already 1. Thank you again for choosing us for a puppy last year. She is truly the most incredible dog ever. We walk to my son's school daily to pick him up and she's turned into quite the celebrity. All the kids run out the door to pet her and she loves the attention. She is so well behaved, smart, and loving. I hope her brother has a wonderful day.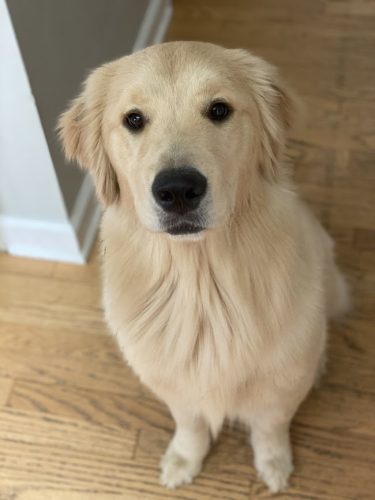 Rauback always share the sweetest pictures of their goldens.  Here is there Halloween card 2023.  The Lion is their wonderful sweet boy they got from us two years ago Mya's brother.